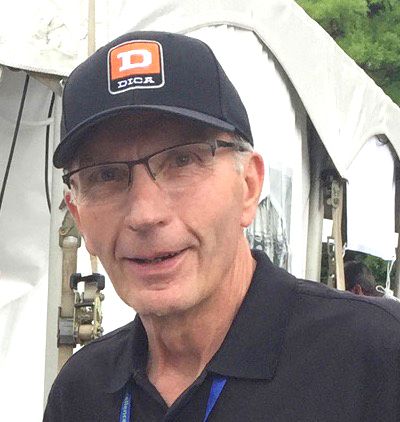 OBITUARY:
RICHARD "DICK" KOBERG
Posted 07/06/23
Richard "Dick" Lee Koberg, 82, son of Clarence and Luetta (Friederichs) Koberg, was born Feb. 25, 1941, in Durant. He passed away June 27, 2023, at the Guthrie County Hospital in Guthrie Center.
Dick graduated from Durant High School in 1959 and attended the Iowa Teachers College for a year. He enlisted in the United States Army, serving from 1961 to 1964 as a cryptologic repairman. On Nov. 8, 1968, he married Carolyn Sundene in Durant. To this union, four children were born, Kris, Kevin, Kerry and Katie.
In 1968, Dick was employed by Northern Mutual Insurance Company. In 1969, Dick left Northwestern to pursue an opportunity with his Uncle Leo Levien at Levien Chevrolet in Fort Dodge. In the spring of 1977, with the encouragement of his uncle, Dick began looking for a dealership to purchase. Koberg Chevrolet was established in Carroll in the summer of that year. Dick later sold the dealership in 1984.
Later that year, Dick began working at Bowie Manufacturing, a company that manufactured fiberglass mobile truck-mounted veterinary units. Dick helped expand the business into the electric utility industry, and, during that time, a utility fleet manager asked, "Can you build me a better outrigger pad?" Dick took up the challenge and created a hybrid fiberglass and wood outrigger pad that was stronger, longer lasting and easier to handle than the common wood-only pads of the day.
In 1987, inspired by his lifelong love for equipment, Dick left Bowie and, with his wife, Carolyn, founded DICA (using the first two letters of their first names) in 1988 to see what he could do with this new outrigger pad. In 1989, DICA was registered as a corporation in the State of Iowa.
Dick worked tirelessly to establish and grow the identity of DICA, and through research and testing, he kept improving his outrigger pad until it became the product DICA is known for today. His No. 1 concern was always for the safety of the equipment being supported and for the people using the product.
Today, DICA is a worldwide leader in outrigger pads, crane pads, cribbing, ground protection and jack pad products. The business is headquartered in a 35,000-square-foot facility in Urbandale, with additional manufacturing in Minnesota and Ohio, and has customers in more than 50 countries and on all seven continents. DICA remains a proud Koberg family-owned-and-operated business. The company has many valued employees whom Dick took a personal interest in and treated like family.
Dick enjoyed playing golf and card games, especially with his family. He also loved captaining boat rides at Lake Panorama, where he and his wife, Carolyn, made their home in later life. He cherished his grandchildren and loved taking them on golf cart rides and sharing ice cream together. He was also well known to enjoy a Boulevard wheat beer and frequently raised his glass in a heartfelt salute to say, "Thank you to all of our wonderful customers."
Dick is survived by his wife, Carolyn Koberg of Panora; sons, Kris (Laura) Koberg of Cedar Rapids; Kevin (Joy) Koberg of College Grove, Tennessee, and Kerry (Kelly) Koberg of Earlham; and daughter, Katie Koberg of Dallas, Texas; grandchildren, Conner, Cade, Kelsey, Presley, Piper, Jackson, Ava and Andrew; siblings, Duane (Jan) Koberg of Sammamish, Washington; Chuck (Patty) Koberg of Folsom, California; and Marcia (David) Schuett of Durant. He was preceded in death by his parents and sister-in-law, Ruth Marie Holmquist.
Celebration of Life services will be 11 a.m., Thursday, July 13, 2023, at the Lutheran Church of Hope Chapel, West Des Moines. The service will be live-streamed (hopeonline.tv/specialevents). Burial of his cremains will be at Maysville Cemetery at a later date in Maysville.
In lieu of flowers, memorials may be left to Tori's Angels, Guthrie County Hospital Foundation, or Hospice of the Midwest.